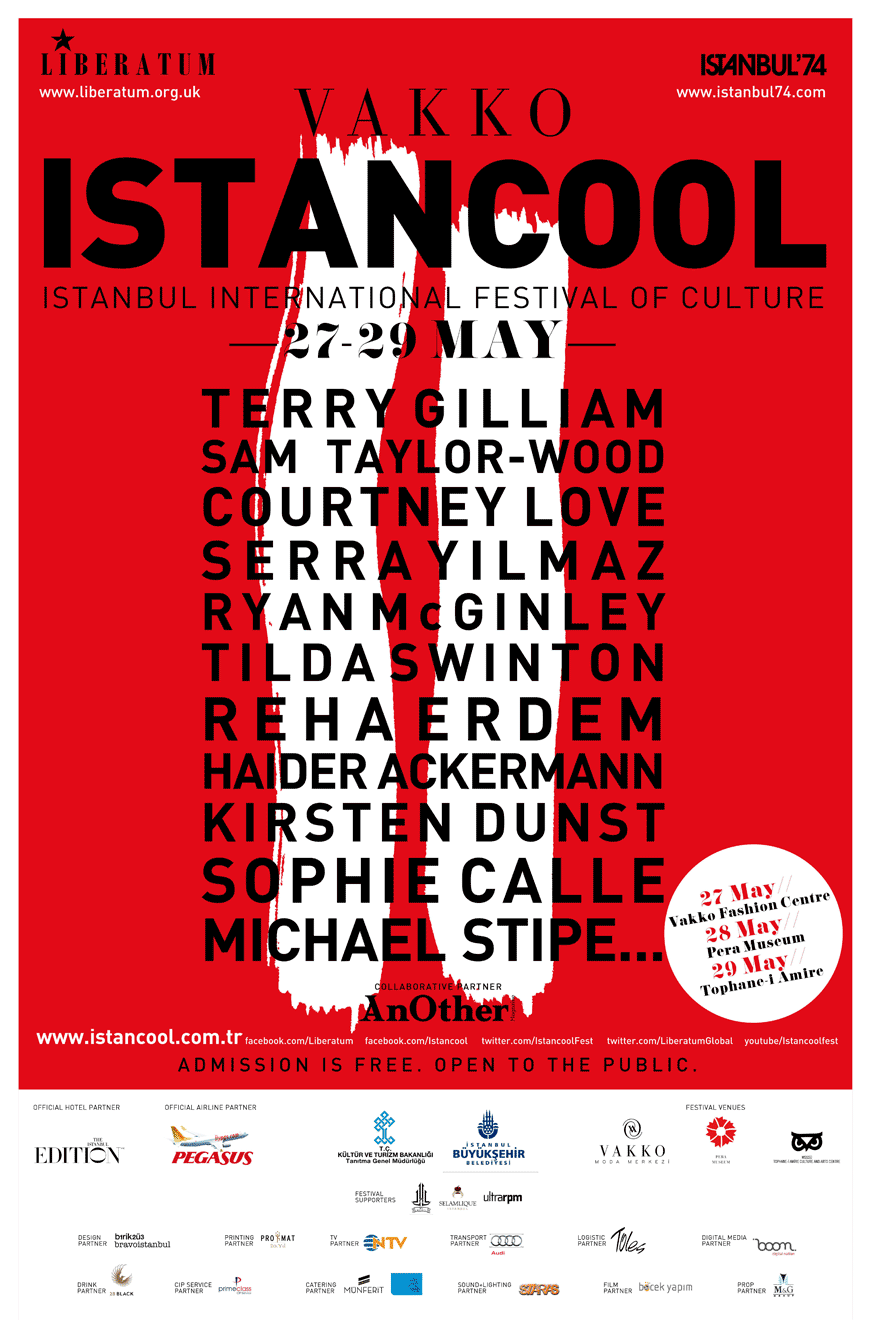 The global British cultural diplomacy brand Liberatum and Turkish creative agency Istanbul'74 in association with AnOther Magazine will host the second edition of the prestigious art, design, fashion, film, music, literature and architecture festival ISTANCOOL from 27-29 May 2011. The festival founder and artistic director, Pablo Ganguli is collaborating with Demet Muftuoglu again who is the creative head of the festival in Turkey. The festival's main sponsor for this year's programme is VAKKO.
Once again, ISTANCOOL will feature leading cultural personalities from Turkey and other parts of the world. Participants this year include Terry Gilliam, Reha Erdem, Tilda Swinton, Riccardo Tisci, Dan Colen, Venice Film Festival director Marco Mueller, Nurgul Yesilcay, Courtney Love, Sophie Calle, Murathan Mungan, Ryan McGinley, Haider Ackermann, Michael Stipe, Serra Yilmaz, Jefferson Hack, Sam Taylor-Wood and Kirsten Dunst among many others. The artistic programme will aim to captivate and open minds.
The inaugural edition of ISTANCOOL created by Liberatum and held in partnership with Istanbul'74 was a significant and important cultural diplomacy summit in Istanbul. It took place in July 2010 to celebrate Istanbul's status as the 2010 European Capital of Culture. The inaugural festival featured Zaha Hadid, Nobel Laureate Sir VS Naipaul, Hanif Kureishi, Gore Vidal, Franca Sozzani, Elif Shafak, Terence Koh, Jefferson Hack, Stephen Frears, Taner Ceylan, Daphne Guinness, Lily Cole, Philip Treacy, Bernard-Henri Levy, Leyla Umar and Michael Nyman – to name but a few participants.
ISTANCOOL is a fascinating and unique cultural experience bringing together some of the world's most talented writers, designers, editors, actors, poets, filmmakers, dancers and musicians to the city of Istanbul. The festival is committed to creating a dynamic arts diplomacy programme in the world and forging greater cultural relations between Turkey and the international artistic community.
ISTANCOOL 2011 is supported by:
Istanbul EDITION - Official Hotel Sponsor; Pegasus Airlines – Official Airline Sponsor; Ministry of Tourism & Culture – Silver Sponsor; Municipality of Istanbul Support; Vakko Fashion Centre, Pera Museum, Tophane-i Amire – Venue Partners; Hallas, Selamlique, Ultra RPM – Festival Supporters; Bravoistanbul – Design Partner; Promat – Print Partner; NTV - TV Partner; Audi – Car Partner; Toles Event and Congress – Logistics Partner; www.boomad.net – Digital Media Partner; 28 Black – Drinks Partner; Prime Class – CIP Service; Munferit, Karakoy Baikci – Catering Partners; Bocek Yarim – Film Partner.
Note to editors:
For further information on ISTANCOOL and the festival artistic programme and participants, please contact: Liberatum  Istanbul'74 
UK/International Press enquiries: Meena Khera
Jacqui Soliman at 
US Press enquiries: Kate Schelter  
Turkish Press enquiries: Serap Engin 
Zeynep Sungur 

ISTANCOOL PROGRAMME – SEE BELOW. For further information, please contact us at
ISTANCOOL ON FACEBOOK
ISTANCOOL ON TWITTER 
---
LIBERATUM and ISTANBUL'74
with AnOther Magazine present
I     S      T      A      N      C      O      O    L
Istanbul International Festival of Culture
27-29 May 2011, Istanbul, Turkey
liberatum.org.uk
www.istancool.com.tr
www.istanbul74.com
FESTIVAL PROGRAMME
ADMISSION IS FREE. OPEN TO THE PUBLIC.
Friday 27 May 2011
Vakko Fashion Centre
12:30pm Festival Opening and Welcome

1pm – Conversations with the Maestro
Terry Gilliam discusses his filmmaking
adventures with Alphan Eseli
2pm Cinema in the Age of Marketing
Marco Mueller, Kirsten Dunst and Nurgul Yesilcay
What does Contemporary Cinema Tell Us About The World Today
3pm Fables of Turkey
Murat Daltaban and Hakan Gunday
The Impact of Turkish Literature on Theatre
3pm Haider Ackermann Workshop
4pm Q&A – Tilda Swinton with Serra Yilmaz
5pm Io Sono L'Amore – Film Screening
Pera Museum
5pm Talented Mr. Ripley – Film Screening
7pm The Adventures of Baron Munchausen – Film Screening
Saturday 28 May 2011
Pera Museum
1pm The New Audi A6 presents 'Collapse into Now' film project
Michael Stipe, Sophie Calle, Sam Taylor-Wood. Chaired by Jefferson Hack
A series of short films made by artists including Sam Taylor-Wood and Sophie Calle to accompany each of the songs on R.E.M's most recent album
2pm Culture of The Young
Dan Colen and Ryan McGinley
Street Art and Its Effect on Counter Culture
3pm The English Director
Sam Taylor-Wood presents 'The English Patient'. Directed by Anthony Minghella
Sunday 29 May 2011
Tophane-i Amire Culture and Arts Centre

1pm Sophie's World
A Talk with Sophie Calle
2pm Love and Revolt
Reha Erdem with Firat Yucel
The Cinema of Reha Erdem
3pm Artists Vs Brands
Courtney Love
The Artist as A Brand
4pm Voices of Hope
Amnesty International – Readings
5pm Murathan Mungan interviewed by Mumammer Brav
Pera Museum

2pm Q&A – Terry Gilliam
2pm Thomas Dozol Workshop
2.30pm The Imaginarium of Dr. Parnassus – Film Screening
5pm 12 Monkeys – Film Screening
LIBERATUM ve ISTANBUL'74
AnOther Magazine ile sunar:
I     S      T      A      N      C      O      O    L
Istanbul International Festival of Culture
27-29 Mayıs 2011, İstanbul
liberatum.org.uk
www.istancool.com.tr
www.istanbul74.com
FESTİVAL PROGRAMI
HALKA AÇIK, ÜCRETSİZ FESTİVAL
27 Mayıs 2011, Cuma
Vakko Moda Merkezi
12:30 Festival Açılışı ve Karşılama
13:00 Maestro ile Sohbet
Terry Gilliam, Alphan Eşeli ile yönetmenlik serüveni üzerine konuşuyor.
14:00 Pazarlama Çağında Sinema
Marco Mueller, Kirsten Dunst ve Nurgül Yeşilçay
Çağdaş Sinema, bize günümüz dünyası hakkında ne anlatıyor?
15:00 Türkiye Masalları
Murat Daltaban ve Hakan Günday
Türk Edebiyatı'nın tiyatro üzerindeki etkileri
15:00 Haider Ackermann Workshop
16:00 Soru-Cevap – Tilda Swinton, Serra Yılmaz ile…

17:00 Io Sono L'Amore (I Am Love) – Film Gösterimi
Pera Müzesi
17:00 Talented Mr. Ripley – Film Gösterimi
19:00 The Adventures of Baron Munchausen – Film Gösterimi
28 Mayıs 2011, Cumartesi
Pera Müzesi
13:00 Yeni Audi A6 sunar: "Collapse Into Now" film projesi
Michael Stipe, Sophie Calle, Sam Taylor-Wood. Jefferson Hack moderatörlüğünde…
Sam Taylor-Wood ve Sophie Calle gibi sanatçıların, son R.E.M. albümündeki şarkılar için çektikleri kısa filmlerinden oluşan seri.
14:00 Genç Kültür
Dan Colen ve Ryan McGinley
Sokak sanatı ve karşı kültür üzerindeki etkileri
15:00 İngiliz Yönetmen
Sam Taylor-Wood, "The English Patient' adlı filmi sunuyor. Yönetmen: Anthony Minghella
29 Mayıs 2011, Pazar
Tophane-i Amire Kültür Sanat Merkezi
13:00 Sophie'nin Dünyası
Sophie Calle ile sohbet
14:00 Aşk ve İsyan
Reha Erdem, Fırat Yücel ile…
Reha Erdem Sineması

15:00 Sanatçı X Marka
Courtney Love
Bir Marka Olarak Sanatçı
16:00 Voices of Hope (Umut Sesleri)
Amnesty International – Okuma
17:00 Murathan Mungan, Muammer Brav'ın sorularını cevaplıyor
Pera Müzesi
14:00 Soru-Cevap – Terry Gilliam
14:00 Thomas Dozol Workshop
14:30 The Imaginarium of Dr. Parnassus – Film Gösterimi
17:00 12 Monkeys – Film Gösterimi