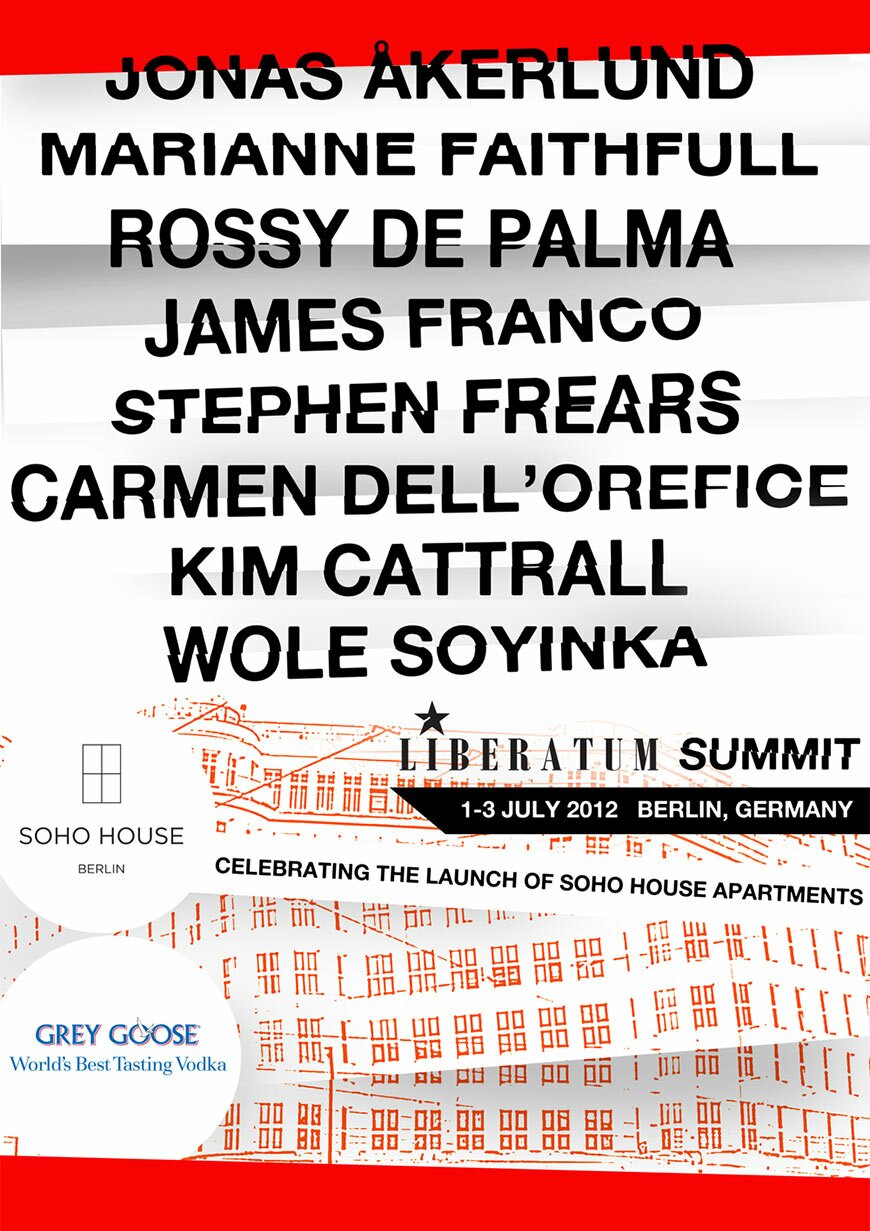 Soho House Apartments Berlin presents Liberatum Berlin International Cultural Summit, 1-3 July 2012
This July sees the Liberatum Berlin Summit at the new Soho House Apartments owned by the Soho House Group. Bringing cultural highlights and icons together, Liberatum will host a captivating programme bringing together creative debate from all corners of the globe.
The two day summit will operate a curated programme from Liberatum Founder and Artistic Director, Pablo Ganguli. Participants include James Franco, Marianne Faithfull, Stephen Frears, Kim Cattrall, Rossy de Palma, Jonas Akerlund, Carmen DellíOrefice and many others.
Sunday 1 July
10pm Performance by Rossy de Palma and David Fernandez
Monday 2 July
3pm Kim Cattrall
Golden Globe winning actress Kim Cattrall on Theatre and Film
Venue: Politburo
4pm Stephen Frears
Academy Award nominated director Stephen Frears on Filmmaking
Venue: Politburo
5pm Carmen Dell'Orefice
Legendary supermodel Carmen Dell'Orefice on Fashion and the Art of Modeling
Venue: Apartment 34
7pm Grey Goose Reception
11pm After party with live performance from disco-flecked high carat electronic pop wizards Azari & III, in association with All Saints.
Venue: Red Room
Tuesday 3 July
2pm Jonas Åkerlund
Grammy Award winning director Jonas Åkerlund on Video and Music
Venue: Red Room
3pm Marianne Faithfull
Music icon Marianne Faithfull on her Life
Venue: Torstrasse
4pm Wole Soyinka
Nobel Laureate Wole Soyinka on Human Rights and Politics
Venue: Torstrasse
5pm James Franco
Academy Award nominated actor, writer and director presents his film 'SAL'
Venue: Screening Room
Monday 1 July
12:30pm The Ghost Writer (Starring Kim Cattrall)
3:00pm The Flower Of My Secret (Starring Rossy de Palma)
8:00pm Dirty Pretty Things (Director Stephen Frears)
Tuesday 2 July
12pm Small Apartments (Director Jonas Åkerlund)
2pm Irina Palm (Starring Marianne Faithfull)
7pm Meet Monica Velour (Starring Kim Cattrall)