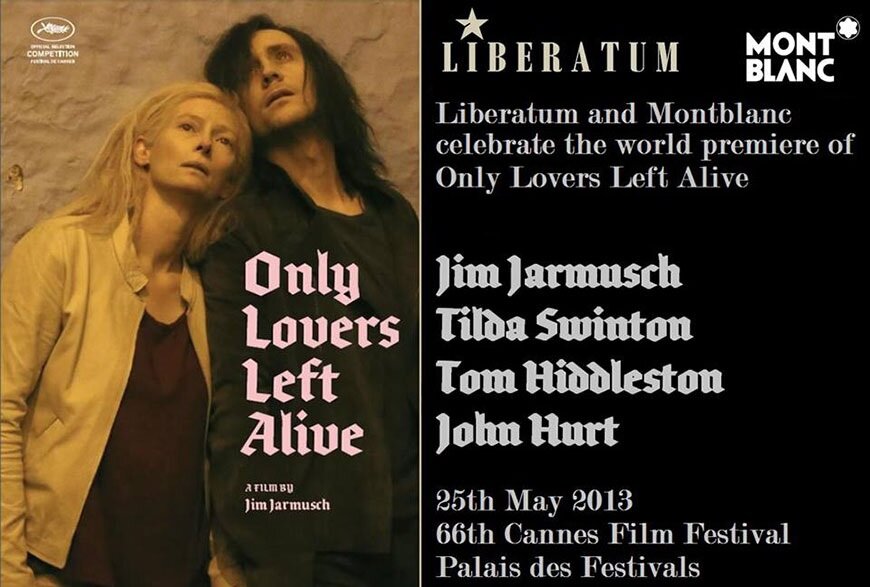 LIBERATUM IN ASSOCIATION WITH MONTBLANC HOSTED A PRE-SCREENING RECEPTION TO CELEBRATE THE WORLD PREMIERE OF JIM JARMUSCH'S FILM 'ONLY LOVERS LEFT ALIVE' AT THE 66TH CANNES FILM FESTIVAL 2013
25th May 2013
Palais des Festivals, Cannes
Global cultural diplomacy organisation Liberatum and Montblanc luxury Maison joined forces to host a pre-screening reception at the 66th Cannes Film Festival 2013 to celebrate the world premiere of Jim Jarmusch's film 'Only Lovers Left Alive'.
Palme d'Or winning director Jim Jarmusch, Academy Award winning actress Tilda Swinton, BAFTA nominated actor Tom Hiddleston, Academy Award nominated, Golden Globe and BAFTA winning actor John Hurt, Academy Award winning producer Jeremy Thomas, fashion designer Haider Ackermann and many others attended the celebration at the Palais des Festivals on Saturday evening before the world premiere of the film.
About Only Lovers Left Alive
Set against the romantic desolation of Detroit and Tangiers, an underground musician, deeply depressed by the direction of human activities, reunites with his resilient and enigmatic lover. Their love story has already endured several centuries at least, but their debauched idyll is soon disrupted by her wild and uncontrollable younger sister. Can these wise but fragile outsiders continue to survive as the modern world collapses around them?
Director: Jim Jarmusch
Producers: Jeremy Thomas, Reinhard Brundig
Cast: Tilda Swinton, Tom Hiddleston, John Hurt, Mia Wasikowska, Anton Yelchin, Jeffrey Wright
About Montblanc
Founded in Germany in 1906,by 3 German businessmen – Alfred Nehemias, a merchant from Hamburg, and August Eberstein, an engineer from Berlin and Claus-Johannes Voss, a stationery trader. Montblanc is a luxury Maison with more tahn 100 years of history. In 1992 the Maison started the first leather good collection which is produced in the Pelletteria in Florence, Italy. Having been associated with precision craftsmanship and the luxury of taking time, it was only natural that, in 1997, Montblanc should found Montblanc Montre S.A., its own watchmaking workshop in Le Locle, in the heart of the Swiss Jura. The Meisterstück watch collection was the first of a succession of masterpieces to emerge from this unique manufacture, which has since been complemented by the takeover of Minerva, a small traditional workshop in Villeret famed for its exceptional handmade movements. To mark its centenary in 2006, Montblanc unveiled the Montblanc Diamond Cut, an exclusive cut replicating the company's celebrated star emblem in three dimensions. This glittering achievement – making Montblanc the first company ever to have a patented gem cut derived from its logo – signalled the entry of Montblanc into the glamorous world of fine jewellery. Culture, quality, craftsmanship and continuity – these are the values which Montblanc carries proudly into the 21st century, already writing another chapter in its history.