Liberatum is holding the first Lufthansa Jewel of Russia festival in the imperial city of St Petersburg. The dates are 27-30 October 2007. Lufthansa Jewel of Russia promises to be a fascinating, inspiring and memorable festival. It is the first ever festival of international arts, cultural diplomacy, ideas and literature to be held in St Petersburg. The festival programme consists of stimulating debates, discussions, talks, Q&A sessions, lectures and interviews. Programme topics range from freedom of speech to media; literature to visual arts; and fashion to history.
The festival will feature acclaimed international and Russian personalities such as Thomas Ades, Stephen Frears, Hanif Kureishi, Edward Docx, Valery Gergiev, Charles Saumarez Smith, Sir Norman Rosenthal, Mikhail Piotrovksy and Jon Snow among many others.
The festival non-music events will take place at the State Hermitage Museum which is one of the largest, oldest, most important and famous art galleries and museums of human history and culture in the world. Events will also be held at the Astoria Hotel, Angleterre Hotel, Galitzine Library and the Ethnographic Museum. The music events will take place at the world-renowned Mariinsky Theatre under the title 'New Horizons'. The Rocco Forte Collection is the accommodation sponsor and the International Herald Tribune is the international media sponsor. St Petersburg Times is the Russian media sponsor.
The festival aims to bring leading international cultural figures to Russia. Today, St Petersburg serves as one of the major cultural centers in the world. St Petersburg has always been known for its high-quality cultural life and therefore we are delighted to be holding Lufthansa Jewel of Russia in this magnificent city.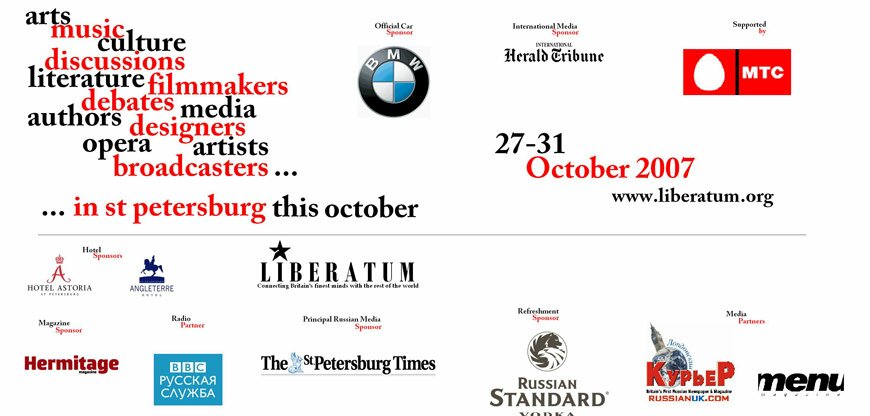 ---
Lufthansa Jewel of Russia Festival
Organised by Liberatum and Corporation of Happiness
International Participants
Charles Saumarez Smith, art historian and Chief Executive of the Royal Academy
Jon Snow, broadcaster and newscaster
Orlando Figes, historian and professor of history at Birkbeck, University of London
Stephen Frears, Academy Award nominated film director
Hanif Kureishi, Academy Award nominated screenwriter, playwright and author
Alex James, musician
Sir Norman Rosenthal, curator and Exhibitions Secretary of the Royal Academy of Arts
Peter Donohoe, Britain's leading classical pianist and winner of the International Tchaikovsky Competition.
Thomas Ades, conductor, composer, pianist and Artistic Director of the Aldeburgh Festival
Matthew Scott, Head of Music at the National Theatre, London
Edward Docx, Man Booker Prize 2007 longlisted author and broadcaster
Dan Crowe, author, editor and journalist
Hugo Rifkind, author and journalist at The Times
Tom Horan, Review editor of the Daily Telegraph
Russian Participants
Mikhail Piotrovsky, Hermitage director
Vladimir Grusman, Ethnographic Museum director
Ekaterina Andreeva, art critic and curator – State Russian museum
Sergei Bugaev-Afrika, artist
Nikolai Uskov, GQ editor
Aliona Doletskaya, Vogue editor
Pavel Pepperstain, author and philosopher
Andrey Khlobistin, art historian and curator
Ludmila Ulitskaya, author
Dmitri Ozerkov, curator 20:21 Hermitage project
Sergey Polotovsky, chief editor Kommersant Weekend
Kirill Ivanov, musician and journalist
Andrey Moguchy, theatre director
Alexander Manozkov, composer
Michael Trofimenkov, film critic, author and journalist
Arkady Ippolitov, critic, curator and author
Alla Mitrofanova, artist and philosopher
Olga Kudriavzeva, gallerist
Maria Novikova, gallerist
Lev Lourie, historian, journalist and author
Dmitry Semenov, gallerist

26 October
9pm Drinks and Dinner for Participants at Le Borshch
27 October
Venue: Hermitage Theatre – Winter Palace/The State Hermitage Museum 34 Dvorzovaya Embankment
3pm Opening of the festival: Art Diplomacy in a time of Global Misunderstanding
Charles Saumarez Smith and Mikhail Piotrovsky
What are the three main challenges facing the Royal Academy and the Hermitage and how will they be met?
4pm 21st Century Exhibitions
Sir Norman Rosenthal and Charles Saumarez Smith in discussion with Ekaterina Andreeva, Sergey Bugaev, Pavel Peppershtain and Andrey Khlobistin
Chair of Hermitage events: Dmitry Ozerkov ñ curator of Hermitage project 20:21
8pm Mariinsky Concert Hall 20 Pisareva Street
Powder Her Face (Russian Premiere)
(semi-stage)
opera in two acts
Music: Thomas AdËs
Director: Alexander Zeldin
Design: Ivan Sovlachkov and Maxim Polishchuk
Soloists: Maire O¥Brien, Valdine Anderson, Daniel Norman, Steven Richardson
Mariinsky Theatre Symphony Orchestra
Conductor: Timothy Redmond
11pm Festival Party at Globe Gallery 92-94 Ligovsky Prospect
28 October
12pm Lunch at the Davidov – The Astoria, Rocco Forte Hotel 39 Bolshaya Morskaya
1pm Timur Novikov exhibition opening at D 137 Gallery 90 -92 Nevsky Prospect
Venue: The Russian Museum of Ethnography 4/1 Inzhenernaya Street
Chaired by Sergei Polotovsky – chief editor of Kommersant Weekend magazine
2:30pm The State and Us
Orlando Figes, Jon Snow, Vladmir Grussman and Lev Lourie
Principles of a state: should the basis be ethnic, nationalist or ideological and why?
3:30pm The Continuation of Civilisation
Matthew Scott, Stephen Frears, Alexander Manozkov, Andrey Moguchy and Alla Mitrofanova
Do the arts still serve as a vital platform in truly uniting cultures, encouraging mutilculturalism and questioning it sensibly at the same time?
4:30pm Stephen Frears and Mickail Trofimenkov Q&A
Film Screening My Beautiful Laundrette
7pm Mariinsky Concert Hall 20 Pisareva Street
Symphony concert of works by Thomas AdËs, Gerald Barry, Igor Stravinsky
Soloists: Peter Donohoe (piano)
Dmitry Pokrovsky Ensemble
Mariinsky Theatre Symphony Orchestra
Conductor: Thomas AdËs
First performance in Russia
Thomas AdËs
Asyla
First performance in Russia
Gerald Barry
Chevaux-de-Frise
Igor Stravinsky
Concerto for Piano and Winds
Les Noces
9pm The British Council Reception
29 October
1pm Lunch at the Residence of the British Consul-General (Shpalernaya ul 54) invited only
Venue: The Prince George Galitzine Memorial Library 46 Fontanka Embankment
3pm The Enemy of Literature
Edward Docx and Hanif Kureishi
Is literature in danger of losing its clarity and why?
4pm The Musicians' Hour
Peter Donohoe, Alex James, Matthew Scott, Thomas Ades and Kirill Ivanov
British and Russian musicians talk about music and inspiration during childhood. They tell us what led to their involvement in the music industry and share with us their differing experiences.
5pm Sorcerer of Words
Hugo Rifkind, Edward Docx, Ludmila Ulitskaya and Hanif Kureishi
Book and poetry readings by authors and cultural figures
5pm Pavel Pepperstain Exhibition Opening at Dmitry Semenov Gallery 63 -19 Ligovsky Prospect
8pm Mariinsky Concert Hall 20 Pisareva Street
Symphony concert of works by Boris Tishchenko, Thomas AdËs, Sergey Slonimsky
Soloist: Anthony Marwood (violin)
Mariinsky Theatre Chorus and Symphony Orchestra
Conductor: Valery Gergiev
Principal Chorus Master: Andrei Petrenko
Boris Tishchenko
Symphony No 2 "Marina"
First performance in Russia
Thomas AdËs
Violin Concerto
World premiere
Sergey Slonimsky
Symphony No 15
9pm Gala Party at the Winter Garden – The Astoria, Rocco Forte Hotel 39 Bolshaya Morskaya
31 October
8pm Mariinsky Concert Hall 20 Pisareva Street
Symphony concert of works by Benjamin Britten, Ralph Vaughan Williams, Valentin Silvestrov
Soloist: Alexei Ogrinchuk (oboe)
Mariinsky Theatre Symphony Orchestra
Conductor: Roman Kofman
Benjamin Britten
Four sea interludes from the opera Peter Grimes
Ralph Vaughan Williams
Oboe Concerto
First performance in Russia
Valentin Silvestrov
Symphony No 6
---