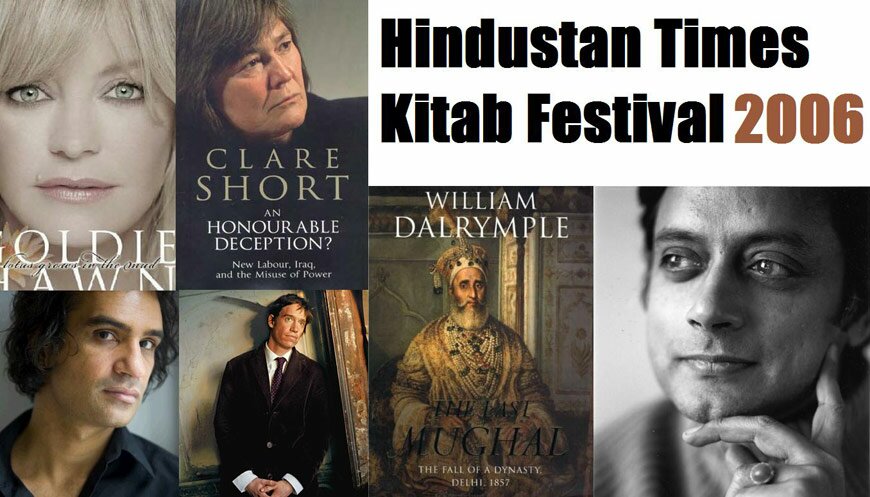 Liberatum presented a thought provoking festival of literature, debates, politics, discussions and Q&As in the capital of India. Spanning over three days, Kitab brought together some of the most intelligent minds to discuss topics of international interest and concern.
Speakers at HT Kitab 2006 in New Delhi included Clare Short, Vir Sanghvi, MJ Akbar, Rory Stewart, Muneeza Shamsie, Geordie Greig, Shashi Tharoor, Goldie Hawn, Tabish Khair, Aamer Hussein, Nadeem Aslam, Yasmin Alibhai Brown, to name but a few. HT Kitab 2006 was Liberatum's first venture in India.
BOYD TONKIN, LITERARY EDITOR OF THE INDEPENDENT ON HT KITAB 2006
"From Amit Chaudhuri to Aamer Hussein, Nadeem Aslam to William Dalrymple, writers of varying dimensions met in Delhi last weekend to size up the state of literary culture in India and Britain. Aptly enough, the authors, publishers and journalists gathered for the first Kitab Festival found themselves among the truly pharaonic red-brick blocks of the India Habitat Centre, a sort of mega-Barbican looming over the green lawns and shady avenues of Lodhi in south Delhi. In this city, the cliches and concepts of fast-track globalisation take on almost comically blatant shapes. Worried authors could stroll across the courtyard and carry on fretting about the threat that English-speaking homogenisation poses to local culture and creativity at the All-American Diner, to a soundtrack of Dylan and Elvis. They also serve a lovely cup of spiced masala chai.
The writers at Kitab had passionately mixed feelings about the Indian story now sold around the world: what Dasgupta called "a massive escalation of confidence and ambition,… which percolates into all other areas of life". For Amit Chaudhuri, Indian writers have been co-opted into a simplistic "narrative of success" in which English-language fiction joins movies or software as high-value exports for the global bazaar. To Dasgupta, the role of writers is precisely to resist the consumer-driven hubris of the Indian boom. Instead they should give us "images of a viable future, and ideas of happiness that are frugal rather than enormously exploitative". Were the Delhi glitterati, cavorting at India Fashion Week, listening? Unlikely.
At least one writer – and perhaps the most celebrated of all – has dropped out altogether from the Indian fiction-for-export business. Arundhati Roy was very prominent in the Delhi media last week, although not in a literary frame. As she has done for years, she spoke up in support of the protesting villagers displaced by the huge Narmada Dam project. Their raggle-taggle rebel army is now camped beside the Jantar Mantar observatory in the swanky heart of commercial New Delhi. Roy the social activist has (literally) chosen to stand up against the floods of modernity rather than update her global brand with a sequel to The God of Small Things. Some people here deeply admire her; others can't grasp why she should decline to make another killing on the literary stock exchange.
Behind many of the doubts and fears that make authors reluctant to endorse a crude, uplifting fable about Indian success lies the question of language. To stand a chance of triumph overseas means to write in English: a minority tongue whose social power stirs envy and resentment. Pavan Varma, author of the brilliant polemic Being Indian, spoke of the "debilitating shadow of English that overwhelms a lot of worthwhile stuff that's being written in other languages". As Anglophone writing swells in its fame and reach, so older traditions seem to shrink. Varma revealed that the latest book by a prize-winning writer in Oriya (the language of Orissa) had sold all of 743 copies. English-language culture partners the aspiration to think big and walk tall on a global stage. Dwarfed by the hulking towers and vast ambitions around them, many writers at Kitab craved a change of size, and pace. At least some of India's literary heavyweights feel that it's time to rediscover the good of small things."
---
THE HT KITAB FESTIVAL, 7-9 April 2006: Programme
Venue: Stein Auditorium, India Habitat Centre, New Delhi
Friday 7 April
10:00 William Dalrymple previews his new book, The Last Mughal. Followed by a Q&A session with Rahul Bose.
11:00 Globalisation, the writer and the nation
Yasmin Alibhai-Brown chairs a discussion about whether globalisation limits the types of stories that writers can tell. Panel members include Amit Chaudhuri, Shashi Tharoor, Nadeem Aslam and Rana Dasgupta.
13.15 Muslims and the Media
Allan Jenkins chairs a discussion on the media's coverage of Islam with Yasmin Alibhai Brown, MJ Akbar, Nadeem Aslam, Muneeza Shamsie and Clare Short.
14.30 Bridging the Gap: Literary Festivals, Writers and Readers
Geordie Greig (chairing), Palash Dave, Alexandra Pringle, Catherine Lockerbie, Pablo Ganguli and Tarun Tejpal discuss the growth of literary festivals around the world and examine the potential for literary festivals in India to boost readership.
16.00 Women's writing: what is it and do women want it?
Muneeza Shamsie chairs a discussion including Catherine Lockerbie, Deborah Moggach, Malavika Sangghvi, Manju Kapur and Urvashi Butalia.
18:00 Penguin Book Launch – Edna Fernandes's Holy Warriors
Saturday 8 April
10.00 Bihar and India 's new modernity
While talk of nuclear power and globalisation preoccupy the Indian capital, the Indian state of Bihar is wrought with poverty, corruption and violence. How do such regions figure into the narrative of contemporary India – Somini Sengupta chairs a discussion with Sam Miller, Vir Sanghvi, Tabish Khair and Siddharth Chowdhury.
11.30 Small presses versus multinationals
Alexandra Pringle chairs a discussion including Pete Ayrton, Richard Beswick, Pramod Kapoor, Renuka Chatterjee and Boyd Tonkin.
13:30 Media Culpa: Does the media fail literature in the UK and India?
Geordie Greig chairs a panel including Alexandra Pringle, Richard Beswick, Allan Jenkins, Tarun Tejpal, Jai Arjun Singh and Toby Lichtig.
15:00 Wasafiri Panel: Writing Across Worlds and Between the Lines
A discussion of little magazines and their role in promoting South Asian writing with Susheila Nasta, Aamer Hussein, Tabish Khair, Maya Jaggi and others.

16:30 'A Lotus Grows in the Mud'
Goldie Hawn will be discussing her recent spiritual memoir A Lotus Grows in The Mud and will then reflect on seminal life experiences with Geordie Greig. Followed by a Q&A session.
18:00 Penguin Book Launch – Sanjay Suri's Brideless in Wembley
19:00 Wasafiri-Routledge Literary Reception. Readings by Tabish Khair, Aamer Hussein and others. By Invitation Only
Sunday 9 April
10.30 Readings : Rana Dasgupta and Amit Chaudhuri
11.30 Humanity, fallibility and truth in contemporary politics
Vir Sanghvi chairs a discussion with Clare Short, Rory Stewart and Shashi Tharoor.
13.30 From snake charmers to call centres Rana Dasgupta chairing a discussion with William Dalrymple, Pavan K Varma, Randeep Ramesh, Siddharth Dhanvant Shanghvi and Amit Chaudhuri on
new trends in literature, narrative non-fiction and reportage from South Asia.
15:00 Readings : Pavan K Varma and Rahul Bose
16.00 The Home and the World William Dalrymple chairs a panel on the role of the South Asian disapora in contemporary literature with CP Surendran, Tabish Khair, Aamer Hussein, Siddharth Dhanvant Shanghvi and Manju Kapur.
18:00 Roli Books Launch – C.P. Surendran's debut novel An Iron Harvest
---